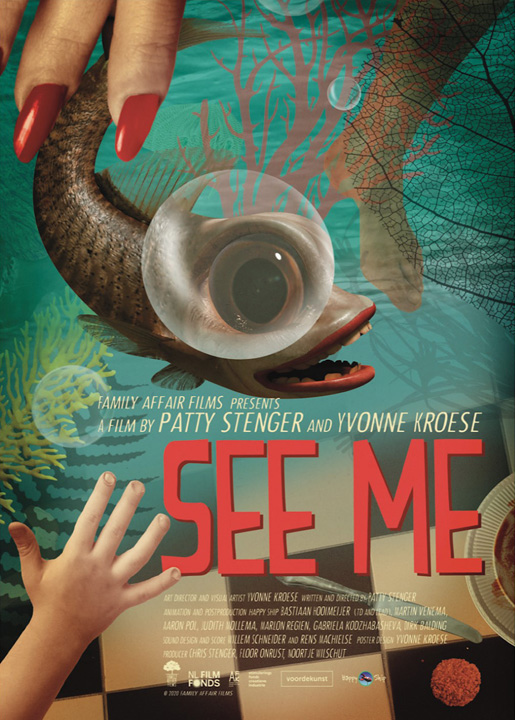 Project | See Me (2020)
Opdrachtgever | Family Affair Films
Wat moet je als kleine uk op een grote mensenfeest?! Als niemand je wil zien, verandert je blik. Alleen wanneer je valt, lijk je deel uit te maken van iedereen…. voor even.
Geschreven en geregisseerd door Patty Stenger, visual artist Yvonne Kroese en animatie door Happy Ship; lengte 9 minuten, taal Nederlands.
What do you do as a little kid when nobody wants to see you, your vision changes. Only when you fall, you seem to be a part of everybody, just for a little while.
written and directed by Patty Stenger, visual Artist Yvonne Kroese and animation by Happy Ship; length 9 minutes, language Dutch.
Een ging er met ons mee naar huis! 🙂
One of them went home with us! 🙂
Produced by Family Affair Films, Chris Stenger
Written & Direction Patty Stenger
Concept Art Yvonne Kroese
Technical Direction Bastiaan Hooimeijer [naam]
Animation Bastiaan Hooimeijer, Dirk Balding
Set Design Marlon Regien
3D Modeling Bastiaan Hooimeijer, Marlon Regien, Dirk Balding, Judith Mollema, Aaron Pol, Gabriela Kodzhabasheva, Martin Venema
Music & Sound Design Willen Schneider, Rens Machielse
Editing, Compositing & Rendering Bastiaan Hooimeijer, Marlon Regien
Production Martin Venema [Happy Ship]