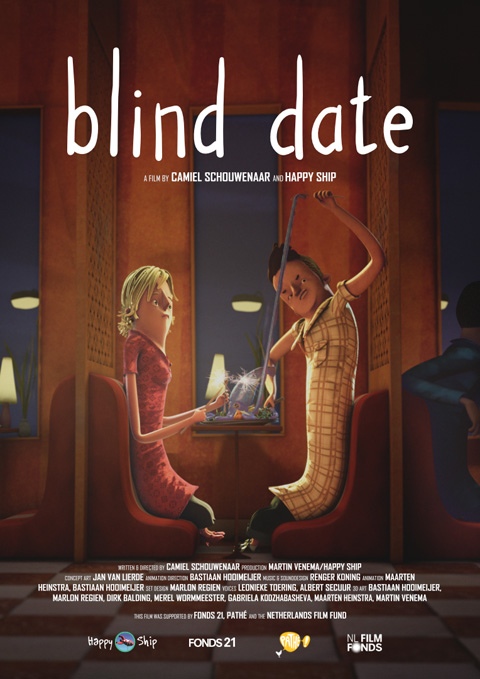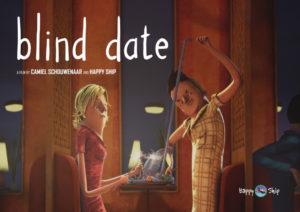 Project : Blind Date
Opdrachtgever : Happy Ship
Tijdens haar eerste date met Bas, verbergt Bodine haar dikke bril. Dat had ze beter niet kunnen doen.
Deze korte animatie is in 2019 gerealiseerd door Happy Ship in het kader van Ultrakort 2019, en draait vanaf september 2019 in alle bioscopen, na een prive premiere op 3 juli.
During her first date with Bas, Bodine hides her thick glasses. She really shouldn't have done that.
This short animation was realized in 2019 by Happy Ship for Ultrakort 2019. After a crew lanunch on juli 3rd, it's released and showing in country-wide theaters from September 2019.
Written & Direction Camiel Schouwenaar
Concept Art Jan van Lierde Art
Technical Direction Bastiaan Hooimeijer [naam]
Animation Maarten Heinstra, Bastiaan Hooimeijer
Set Design Marlon Regien
3D Modeling Bastiaan Hooimeijer, Marlon Regien, Dirk Balding, Merel Wormmeester, Gabriela Kodzhabasheva, Maarten Heinstra, Martin Venema
Voices Leonieke Toering, Albert Secuur
Music & Sound Design Renger Koning [Soundbase]
Editing, Compositing & Rendering Bastiaan Hooimeijer, Marlon Regien
Production Martin Venema [Happy Ship]